Patient sample criteria for the Sinusitis Measures Group are patients aged 18 years or olderwith a specific diagnosis of sinusitis and accompanied by a specific patient encounter:
---
One of the following diagnosis codes indicating acute sinusitis:
ICD-10-CM: J01.00, J01.01, J01.10, J01.11, J01.20, J01.21, J01.30, J01.31, J01.40, J01.41, J01.80, J01.90
Accompanied by:
One of the following patient encounter codes: 
99201, 99202, 99203, 99204, 99205, 99212, 99213, 99214, 99215, 99281, 99282, 99283, 99284, 99285, 99304, 99305, 99306, 99307, 99308, 99309, 99310, 99324, 99325, 99326, 99327, 99328, 99334, 99335, 99336, 99337, 99341, 99342, 99343, 99344, 99345, 99347, 99348, 99349, 99350
When reporting measure #131, the documented follow-up plan must be related to the presence of pain, example: "Patient referred to pain management specialist for back pain" or "Return in two weeks for reassessment of pain".
Measure #332 need only be reported if sinusitis caused by, or presumed to be caused by, bacterial infection (G9364) and antibiotic regimen prescribed (G9498) or equivalents.
PQRS Group Measures:
#130 Documentation of Current Medications in the Medical Record
#131 Pain Assessment and Follow-Up
#226 Preventive Care and Screening: Tobacco Use: Screening and Cessation Intervention
#331 Adult Sinusitis: Antibiotic Prescribed for Acute Sinusitis (Appropriate Use)
#332 Adult Sinusitis: Appropriate Choice of Antibiotic: Amoxicillin Prescribed for Patients with Acute Bacterial Sinusitis (Appropriate Use)
#333 Adult Sinusitis: Computerized Tomography (CT) for Acute Sinusitis (Overuse)
 
Download PQRS Acute Sinusitis Measures Group Form: 


Measure Group Description: 

(from CMS)
Measure Group Flow: 

(from CMS)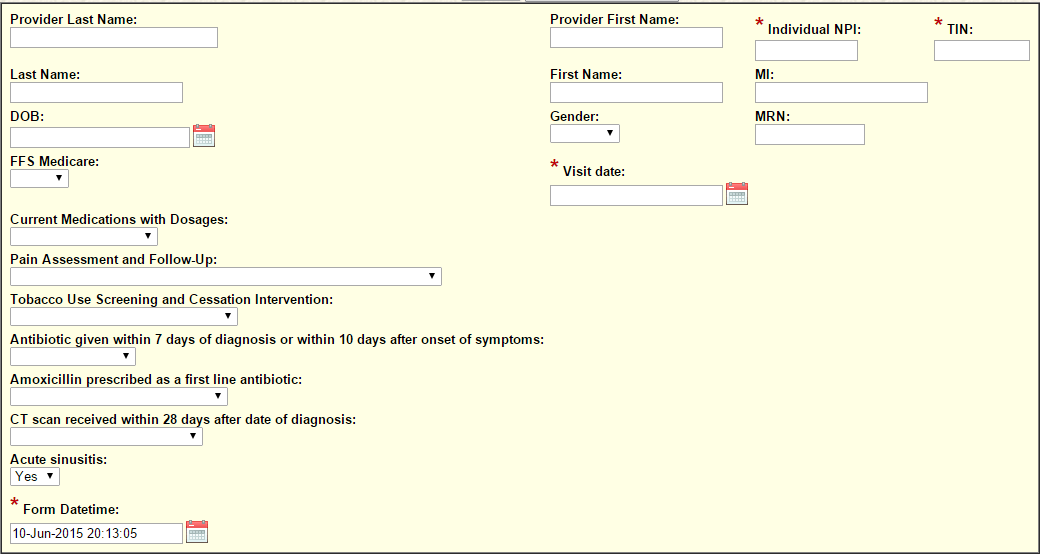 Register now with MDinteractive, report on all applicable measures described above for a minimum of 20 unique patients (11 of which must be Part B Fee-For-Service patients) and avoid the 4% penalty.
An answer of "Not Done" on all patients on one measure will result in a performance rate of 0% and the provider will get a PQRS penalty.
Each provider needs to sign a PQRS consent at http://mdinteractive.com/webpen