PQRS Group Measures:
#71 Breast Cancer: Hormonal Therapy for Stage IC - IIIC Estrogen Receptor/Progesterone Receptor (ER/PR) Positive Breast Cancer
#72 Colon Cancer: Chemotherapy for AJCC Stage III Colon Cancer Patients
#110 Preventive Care and Screening: Influenza Immunization
#130 Documentation of Current Medications in the Medical Record
#143 Oncology: Medical and Radiation – Pain Intensity Quantified
#144 Oncology: Medical and Radiation – Plan of Care for Pain
#226 Preventive Care and Screening: Tobacco Use: Screening and Cessation Intervention
Please note: the provider only needs to report 20 cancer patients. Only answer the applicable PQRS measures on each patient. Smoking measure applies to ALL patients but colon cancer measure only needs to be reported on colon cancer patients. If the provider has no colon cancer patients, the provider will not report the colon cancer measure.
---
Patient sample criteria for the Oncology Measures Group are patients aged 18 years and older with a specific diagnosis of cancer, accompanied by a specific patient encounter:
One of the following diagnosis codes indicating cancer:
ICD-10-CM: C00.0, C00.1, C00.2, C00.3, C00.4, C00.5, C00.6, C00.8, C00.9, C01, C02.0, C02.1, C02.2, C02.3, C02.4, C02.8, C02.9, C03.0, C03.1, C03.9, C04.0, C04.1, C04.8, C04.9, C05.0, C05.1, C05.2, C05.8, C05.9, C06.0, C06.1, C06.2, C06.80, C06.89, C06.9, C07, C08.0, C08.1, C08.9, C09.0, C09.1, C09.8, C09.9, C10.0, C10.1, C10.2, C10.3, C10.4, C10.8, C10.9, C11.0, C11.1, C11.2, C11.3, C11.8, C11.9, C12, C13.0, C13.1, C13.2, C13.8, C13.9, C14.0, C14.2, C14.8, C15.3, C15.4, C15.5, C15.8, C15.9, C16.0, C16.1, C16.2, C16.3, C16.4, C16.5, C16.6, C16.8, C16.9, C17.0, C17.1, C17.2, C17.3, C17.8, C17.9, C18.0, C18.1, C18.2, C18.3, C18.4, C18.5, C18.6, C18.7, C18.8, C18.9, C19, C20, C21.0, C21.1, C21.2, C21.8, C22.0, C22.1, C22.2, C22.3, C22.4, C22.7, C22.8, C22.9, C23, C24.0, C24.1, C24.8, C24.9, C25.0, C25.1, C25.2, C25.3, C25.4, C25.7, C25.8, C25.9,C26.0, C26.1, C26.9, C30.0, C30.1, C31.0, C31.1, C31.2, C31.3, C31.8, C31.9, C32.0, C32.1, C32.2, C32.3, C32.8, C32.9, C33, C34.00, C34.01, C34.02, C34.10, C34.11, C34.12, C34.2, C34.30, C34.31, C34.32, C34.80, C34.81, C34.82, C34.90, C34.91, C34.92, C37, C38.0, C38.1, C38.2, C38.3, C38.4, C38.8, C39.0, C39.9, C40.00, C40.01, C40.02, C40.10, C40.11, C40.12, C40.20, C40.21, C40.22, C40.30, C40.31, C40.32, C40.80, C40.81, C40.82, C40.90, C40.91, C40.92, C41.0, C41.1, C41.2, C41.3, C41.4, C41.9, C43.0, C43.10, C43.11, C43.12, C43.20, C43.21, C43.22, C43.30, C43.31, C43.39, C43.4, C43.51, C43.52, C43.59, C43.60, C43.61, C43.62, C43.70, C43.71, C43.72, C43.8, C43.9, C44.00, C44.01, C44.02, C44.09, C44.101, C44.102, C44.109, C44.111, C44.112, C44.119, C44.121, C44.122, C44.129, C44.191, C44.192, C44.199, C44.201, C44.202, C44.209, C44.211, C44.212, C44.219, C44.221, C44.222, C44.229, C44.291, C44.292, C44.299, C44.300, C44.301, C44.309, C44.310, C44.311, C44.319, C44.320, C44.321, C44.329, C44.390, C44.391, C44.399, C44.40, C44.41, C44.42, C44.49, C44.500, C44.501, C44.509, C44.510, C44.511, C44.519, C44.520, C44.521, C44.529, C44.590, C44.591, C44.599, C44.601, C44.602, C44.609, C44.611, C44.612, C44.619, C44.621, C44.622, C44.629, C44.691, C44.692, C44.699, C44.701, C44.702, C44.709, C44.711, C44.712,C44.719, C44.721, C44.722, C44.729, C44.791, C44.792, C44.799, C44.80, C44.81, C44.82,C44.89, C44.90, C44.91, C44.92, C44.99, C45.0, C45.1, C45.2, C45.7, C45.9, C46.0, C46.1, C46.2, C46.3, C46.4, C46.50, C46.51, C46.52, C46.7, C46.9, C47.0, C47.10, C47.11, C47.12, C47.20, C47.21, C47.22, C47.3, C47.4, C47.5, C47.6, C47.8, C47.9, C48.0, C48.1, C48.2, C48.8, C49.0, C49.10, C49.11, C49.12, C49.20, C49.21, C49.22, C49.3, C49.4, C49.5, C49.6, C49.8, C49.9, C4A.0, C4A.10, C4A.11, C4A.12, C4A.20, C4A.21, C4A.22, C4A.30, C4A.31, C4A.39, C4A.4, C4A.51, C4A.52, C4A.59, C4A.60, C4A.61, C4A.62, C4A.70, C4A.71, C4A.72, C4A.8, C4A.9, C50.011, C50.012, C50.019, C50.021, C50.022, C50.029, C50.111, C50.112, C50.119, C50.121, C50.122, C50.129, C50.211, C50.212, C50.219, C50.221, C50.222, C50.229, C50.311, C50.312, C50.319, C50.321, C50.322, C50.329, C50.411, C50.412, C50.419, C50.421, C50.422, C50.429, C50.511, C50.512, C50.519, C50.521, C50.522, C50.529, C50.611, C50.612, C50.619, C50.621, C50.622, C50.629, C50.811, C50.812, C50.819, C50.821, C50.822, C50.829, C50.911, C50.912, C50.919, C50.921, C50.922, C50.929, C51.0, C51.1, C51.2, C51.8, C51.9, C52, C53.0, C53.1, C53.8, C53.9, C54.0, C54.1, C54.2, C54.3, C54.8, C54.9, C55, C56.1, C56.2, C56.9, C57.00, C57.01, C57.02, C57.10, C57.11, C57.12, C57.20, C57.21, C57.22, C57.3, C57.4, C57.7, C57.8, C57.9, C58, C60.0, C60.1, C60.2, C60.8, C60.9, C61, C62.00, C62.01, C62.02, C62.10, C62.11, C62.12, C62.90, C62.91, C62.92, C63.00, C63.01, C63.02, C63.10, C63.11, C63.12, C63.2, C63.7, C63.8, C63.9, C64.1, C64.2, C64.9, C65.1, C65.2, C65.9, C66.1, C66.2, C66.9, C67.0, C67.1, C67.2, C67.3, C67.4, C67.5, C67.6, C67.7, C67.8, C67.9, C68.0, C68.1, C68.8, C68.9, C69.00, C69.01, C69.02, C69.10, C69.11, C69.12, C69.20, C69.21, C69.22, C69.30, C69.31, C69.32, C69.40, C69.41, C69.42, C69.50, C69.51, C69.52, C69.60, C69.61, C69.62, C69.80, C69.81, C69.82, C69.90, C69.91, C69.92, C70.0, C70.1, C70.9, C71.0, C71.1, C71.2, C71.3, C71.4, C71.5, C71.6, C71.7, C71.8, C71.9, C72.0, C72.1, C72.20, C72.21, C72.22, C72.30, C72.31, C72.32, C72.40, C72.41, C72.42, C72.50, C72.59, C72.9, C73, C74.00, C74.01, C74.02, C74.10, C74.11, C74.12, C74.90, C74.91, C74.92, C75.0, C75.1, C75.2, C75.3, C75.4, C75.5, C75.8, C75.9, C76.0, C76.1, C76.2, C76.3, C76.40, C76.41, C76.42, C76.50, C76.51, C76.52, C76.8, C77.0, C77.1, C77.2, C77.3, C77.4, C77.5, C77.8, C77.9, C78.00, C78.01, C78.02, C78.1, C78.2, C78.30, C78.39, C78.4, C78.5, C78.6, C78.7, C78.80, C78.89, C79.00, C79.01, C79.02, C79.10, C79.11, C79.19, C79.2, C79.31, C79.32, C79.40, C79.49, C79.51, C79.52, C79.60, C79.61, C79.62, C79.70, C79.71, C79.72, C79.81, C79.82, C79.89, C79.9, C7A.00, C7A.010, C7A.011, C7A.012, C7A.019, C7A.020, C7A.021, C7A.022, C7A.023, C7A.024, C7A.025, C7A.026, C7A.029, C7A.090, C7A.091, C7A.092, C7A.093, C7A.094, C7A.095, C7A.096, C7A.098, C7A.1, C7A.8, C7B.00, C7B.01, C7B.02, C7B.03, C7B.04, C7B.09, C7B.1, C7B.8, C80.0, C80.1, C80.2, C81.00, C81.01, C81.02, C81.03, C81.04, C81.05, C81.06, C81.07, C81.08, C81.09, C81.10, C81.11, C81.12, C81.13, C81.14, C81.15, C81.16, C81.17, C81.18, C81.19, C81.20, C81.21, C81.22, C81.23, C81.24, C81.25, C81.26, C81.27, C81.28, C81.29, C81.30, C81.31, C81.32, C81.33, C81.34, C81.35, C81.36, C81.37, C81.38, C81.39, C81.40, C81.41, C81.42, C81.43, C81.44, C81.45, C81.46, C81.47, C81.48, C81.49, C81.70, C81.71, C81.72, C81.73, C81.74, C81.75, C81.76, C81.77, C81.78, C81.79, C81.90, C81.91, C81.92, C81.93, C81.94, C81.95, C81.96, C81.97, C81.98, C81.99, C82.00, C82.01, C82.02, C82.03, C82.04, C82.05, C82.06, C82.07, C82.08, C82.09, C82.10, C82.11, C82.12, C82.13, C82.14, C82.15, C82.16, C82.17, C82.18, C82.19, C82.20, C82.21, C82.22, C82.23, C82.24, C82.25, C82.26, C82.27, C82.28, C82.29, C82.30, C82.31, C82.32, C82.33, C82.34, C82.35, C82.36, C82.37, C82.38, C82.39, C82.40, C82.41, C82.42, C82.43, C82.44, C82.45, C82.46, C82.47, C82.48, C82.49, C82.50, C82.51, C82.52, C82.53, C82.54, C82.55, C82.56, C82.57, C82.58, C82.59, C82.60, C82.61, C82.62, C82.63, C82.64, C82.65, C82.66, C82.67, C82.68, C82.69, C82.80, C82.81, C82.82, C82.83, C82.84, C82.85, C82.86, C82.87, C82.88, C82.89, C82.90, C82.91, C82.92, C82.93, C82.94, C82.95, C82.96, C82.97, C82.98, C82.99, C83.00, C83.01, C83.02, C83.03, C83.04, C83.05, C83.06, C83.07, C83.08, C83.09, C83.10, C83.11, C83.12, C83.13, C83.14, C83.15, C83.16, C83.17, C83.18, C83.19, C83.30, C83.31, C83.32, C83.33, C83.34, C83.35, C83.36, C83.37, C83.38, C83.39, C83.50, C83.51, C83.52, C83.53, C83.54, C83.55, C83.56, C83.57, C83.58, C83.59, C83.70, C83.71, C83.72, C83.73, C83.74, C83.75, C83.76, C83.77, C83.78, C83.79, C83.80, C83.81, C83.82, C83.83, C83.84, C83.85, C83.86, C83.87, C83.88, C83.89, C83.90, C83.91, C83.92, C83.93, C83.94, C83.95, C83.96, C83.97, C83.98, C83.99, C84.00, C84.01, C84.02, C84.03, C84.04, C84.05, C84.06, C84.07, C84.08, C84.09, C84.10, C84.11, C84.12, C84.13, C84.14, C84.15, C84.16, C84.17, C84.18, C84.19, C84.40, C84.41, C84.42, C84.43, C84.44, C84.45, C84.46, C84.47, C84.48, C84.49, C84.60, C84.61, C84.62, C84.63, C84.64, C84.65, C84.66, C84.67, C84.68, C84.69, C84.70, C84.71, C84.72, C84.73, C84.74, C84.75, C84.76, C84.77, C84.78, C84.79, C84.90, C84.91, C84.92, C84.93, C84.94, C84.95, C84.96, C84.97, C84.98, C84.99, C84.A0, C84.A1, C84.A2, C84.A3, C84.A4, C84.A5, C84.A6, C84.A7, C84.A8, C84.A9, C84.Z0, C84.Z1, C84.Z2, C84.Z3, C84.Z4, C84.Z5, C84.Z6, C84.Z7, C84.Z8, C84.Z9, C85.10, C85.11, C85.12, C85.13, C85.14, C85.15, C85.16, C85.17, C85.18, C85.19, C85.20, C85.21, C85.22, C85.23, C85.24, C85.25, C85.26, C85.27, C85.28, C85.29, C85.80, C85.81, C85.82, C85.83, C85.84, C85.85, C85.86, C85.87, C85.88, C85.89, C85.90, C85.91, C85.92, C85.93, C85.94, C85.95, C85.96, C85.97, C85.98, C85.99, C86.0, C86.1, C86.2, C86.3, C86.4, C86.5, C86.6, C88.0, C88.2, C88.3, C88.4, C88.8, C88.9, C90.00, C90.01, C90.02, C90.10, C90.11, C90.12, C90.20, C90.21, C90.22, C90.30, C90.31, C90.32, C91.00, C91.01, C91.02, C91.10, C91.11, C91.12, C91.30, C91.31, C91.32, C91.40, C91.41, C91.42, C91.50, C91.51, C91.52, C91.60, C91.61, C91.62, C91.90, C91.91, C91.92, C91.A0, C91.A1, C91.A2, C91.Z0, C91.Z1, C91.Z2, C92.00, C92.01, C92.02, C92.10, C92.11, C92.12, C92.20, C92.21, C92.22, C92.30, C92.31, C92.32, C92.40, C92.41, C92.42, C92.50, C92.51, C92.52, C92.60, C92.61, C92.62, C92.90, C92.91, C92.92, C92.A0, C92.A1, C92.A2, C92.Z0, C92.Z1, C92.Z2, C93.00, C93.01, C93.02, C93.10, C93.11, C93.12, C93.30, C93.31, C93.32, C93.90, C93.91, C93.92, C93.Z0, C93.Z1, C93.Z2, C94.00, C94.01, C94.02, C94.20, C94.21, C94.22, C94.30, C94.31, C94.32, C94.40, C94.41, C94.42, C94.6, C94.80, C94.81, C94.82, C95.00, C95.01, C95.02, C95.10, C95.11, C95.12, C95.90, C95.91, C95.92, C96.0, C96.2, C96.4, C96.5,C96.6, C96.9, C96.A, C96.Z, D37.01, D37.02, D37.030, D37.031, D37.032, D37.039, D37.04, D37.05, D37.09, D37.1, D37.2, D37.3, D37.4, D37.5, D37.6, D37.8, D37.9, D38.0, D38.1, D38.2, D38.3, D38.4, D38.5, D38.6, D39.0, D39.10, D39.11, D39.12, D39.2, D39.8, D39.9, D40.0, D40.10, D40.11, D40.12, D40.8, D40.9, D41.00, D41.01, D41.02, D41.10, D41.11, D41.12, D41.20, D41.21, D41.22, D41.3, D41.4, D41.8, D41.9, D42.0, D42.1, D42.9, D43.0, D43.1, D43.2, D43.3, D43.4, D43.8, D43.9, D44.0, D44.10, D44.11, D44.12, D44.2, D44.3, D44.4, D44.5, D44.6, D44.7, D44.8, D44.9, D45, D46.0, D46.1, D46.20, D46.21, D46.22, D46.4, D46.9, D46.A, D46.B, D46.C, D46.Z, D47.0, D47.1, D47.2, D47.3, D47.4, D47.9, D47.Z1, D47.Z9, D48.0, D48.1, D48.2, D48.3, D48.4, D48.5, D48.60, D48.61, D48.62, D48.7, D48.9, D49.0, D49.1, D49.2, D49.3, D49.4, D49.5, D49.6, D49.7, D49.81, D49.89, D49.9, Q85.00, Q85.01, Q85.02, Q85.03, Q85.09  
---
Accompanied by:
One of the following patient encounter codes: 
77427, 77431, 77432, 77435, 77470
OR
One of the following patient encounter codes: 
99201, 99202, 99203, 99204, 99205, 99212, 99213, 99214, 99215
AND
Patient encounter during the reporting period (CPT) - Procedure codes:
51720, 96401, 96402, 96405, 96406, 96409, 96411, 96413, 96415, 96416, 96417, 96420, 96422, 96423, 96425, 96440, 96446, 96450, 96521, 96522, 96523, 96542, 96549 
---
Measure #71 only needs to be reported when the patient is female and has the following diagnosis code indicating breast cancer:
ICD-10-CM: C50.011, C50.012, C50.019, C50.111, C50.112, C50.119, C50.211, C50.212, C50.219, C50.311, C50.312, C50.319, C50.411, C50.412, C50.419, C50.511, C50.512, C50.519, C50.611, C50.612, C50.619, C50.811, C50.812, C50.819, C50.911, C50.912, C50.919 
AND
AJCC Breast Cancer Stage I, TIC (tumor size > 1 cm to 2 cm), documented (3374F) 
OR
AJCC Breast Cancer Stage II, documented (3376F) 
OR
AJCC Breast Cancer Stage III, documented (3378F) 
AND
Estrogen receptor (ER) or progesterone receptor (PR) positive breast cancer (3315F) 
---
Measure #72 only needs to be reported when the patient is 18 through 80 years old and has the following diagnosis code indicating colon cancer:
ICD-10-CM: C18.0, C18.2, C18.3, C18.4, C18.5, C18.6, C18.7, C18.8, C18.9
AND
AJCC Colon Cancer Stage III, documented
Measure #110 only needs to be reported a minimum of once during the reporting period when the patient's visit included in the patient sample population is between January and March for the 2015-2016 influenza season OR between October and December for the 2016-2017 influenza season. When the patient's office visit is between April and September, Measure #110 is not applicable and will not affect the eligible provider's reporting or performance rate. 
Measure #143 eligible encounters for patients receiving chemotherapy will include an encounter where the patient has been administered chemotherapy within 30 days prior to the encounter and also has been administered chemotherapy within 30 days after the date of the encounter. 
If a measure within a measures group is not applicable to a patient, the patient would not be counted in the performance denominator for that measure (e.g., Oncology Measures Group - Measure #71: Breast Cancer: Hormonal Therapy for Stage IC-IIIC Estrogen Receptor/Progesterone Receptor (ER/PR) Positive Breast Cancer would not be applicable to male patients according to the patient sample criteria). If the measure is not applicable for all patients within the sample, the performance rate would be 0/0 (null) and would be considered satisfactorily reporting. 
Download PQRS Oncology Measures Group Form: 


Measure Group Description: 

 (from CMS)
Measure Group Flow: 

 (from CMS)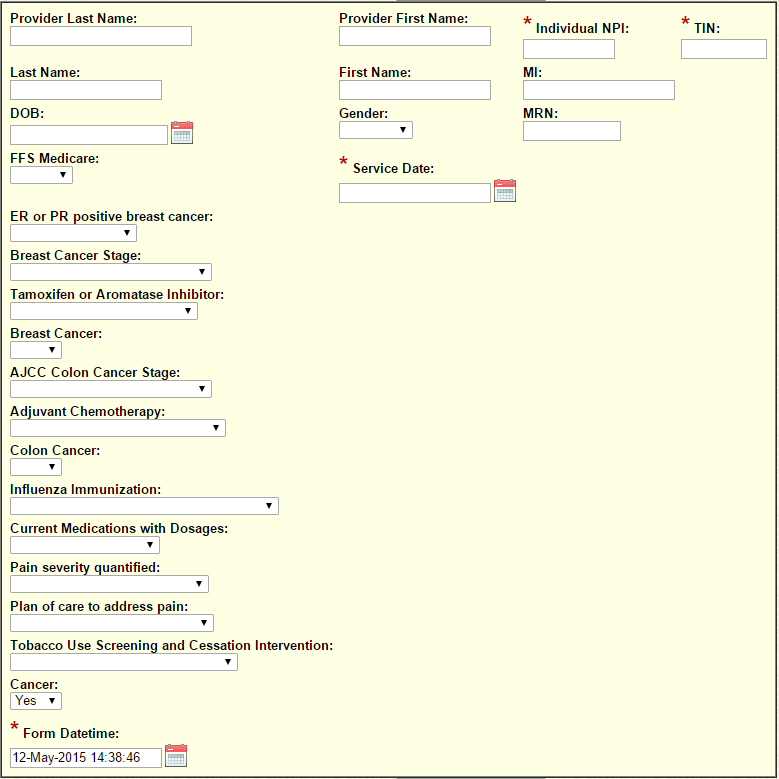 Register now with MDinteractive, report on all applicable measures described above for a minimum of 20 unique patients (11 of which must be Part B Fee-For-Service patients) and avoid the 4% penalty.
An answer of "Not Done" on all patients on one measure will result in a performance rate of 0% and the provider will get a PQRS penalty.
Each provider needs to sign a PQRS consent at http://mdinteractive.com/webpen