CMS estimates that approximately 676,722 eligible clinicians would be required to participate in MIPS in the 2017 MIPS performance period.  Under the proposed rule, the payment adjustment for the 2019 payment year would range from - 4% to +4X% where X is an adjustment factor to allow the MIPS program to stay budget neutral.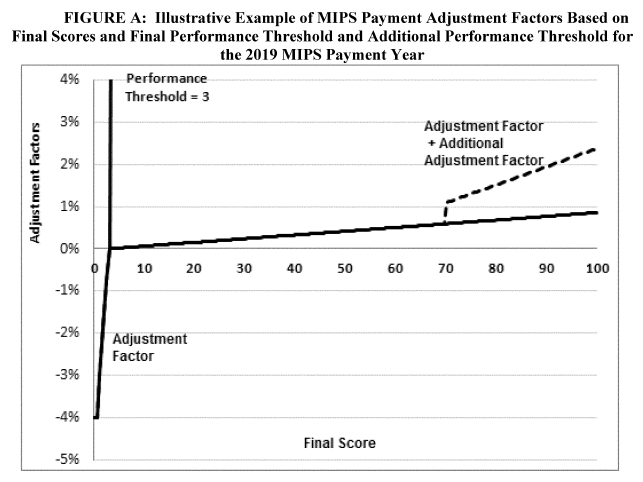 According to CMS, MIPS eligible clinicians would receive approximately $199 million in positive MIPS payment adjustments, including up to an additional $500 million for those with exceptional performance (eligible clinicians whose final score is 70 points or higher).  CMS also estimates that 5.3% of the providers eligible for MIPS in 2017 will get a penalty. The average MIPS payment amount would be 0.94%.
CMS estimates these numbers based on projecting past PQRS participation, past PQRS performance scores and past EHR Meaningful Use participation into the 2017 MIPS rules.
Based on the CMS numbers, the penalty for not reporting MIPS for a clinician with an average of $116,000.00 in Medicare Part B income, will be $4,640 (4% negative payment adjustment). 
We estimate that the average payment for a clinician with a MIPS score between 3 and 100 will be $1,090 (0.94% positive payment adjustment). As shown in the graph above, the largest payments will apply to clinicians with MIP scores above 70. 
The reward for a perfect MIPS score of 100 points could be around 2.4% percent ($3,400 for a clinician with an average $116,000 of Medicare income).