On October 14, 2016, CMS finalized the New Medicare Quality Payment Program rules. You can find the Executive Summary here.
Here are some of the highlights:
Clinicians can choose their course of participation in 2017 with four options.


"Test" the Quality Payment Program
Clinicians can choose to report to MIPS:
one measure in the quality performance category, OR
one activity in the improvement activities performance category, OR
report the required measures of the advancing care information performance category 
and avoid a negative MIPS payment adjustment.
Alternatively, if MIPS eligible clinicians choose to not report even one measure or activity, they will receive the full negative 4 percent adjustment.


Participate - Part of the Calendar Year
Clinicians can choose to report for a period of time less than the full year performance period 2017 but for a full 90-day period at a minimum and report:
more than one quality measure, OR
more than one improvement activity, OR
more than the required measures in the advancing care information performance category,
in order to avoid a negative MIPS payment adjustment and to possibly receive a positive MIPS payment adjustment.

Participate - Full Calendar Year
Clinicians can choose to report MIPS for a full year in 2017 and maximize the MIPS eligible clinician's chances to qualify for a positive adjustment.
In addition, MIPS eligible clinicians who are exceptional performers in MIPS, as shown by the practice information that they submit, are eligible for an additional positive adjustment for each year of the first 6 years of the program.


Participate in an Advanced Alternative Payment Model (APM) in 2017.
MIPS eligible clinicians can participate in Advanced APMs, and if they receive a sufficient portion of their Medicare payments or see a sufficient portion of their Medicare patients through the Advanced APM, they will qualify for a 5 percent bonus incentive payment in 2019. 
For full participation in MIPS (to achieve the highest possible final scores)
MIPS eligible clinicians are encouraged to submit measures and activities in all three integrated performance categories:
Quality - report on six quality measures, or one specialty-specific or subspecialty-specific measure set.
Improvement activities - engage in up to four activities, rather than the proposed six activities, to earn the highest possible score of 40
Advancing care information - report on five required measures
To address public comments on the cost performance category, the weighting of the cost performance category has been lowered to 0 percent for the transition year.
For 2017 Transition Year
Quality Category- MIPS eligible clinicians can submit one out of at least six quality measures will meet the MIPS performance threshold of 3.
Small Practices - will be excluded from new requirements due to the low-volume threshold, which has been set at less than or equal to $30,000 in Medicare Part B allowed charges or less than or equal to 100 Medicare patients.
Measures Groups reporting  - not available in 2017
Non-scored Measures - if the measure is submitted but is unable to be scored because it does not meet the required case minimum (20), does not have a benchmark, or does not meet the data completeness requirement (at least 50% reporting rate), the measure will receive a score of 3 points.
Cross-cutting Measure - CMS is not requiring MIPS eligible clinicians to submit data on cross-cutting measures
Additional Rules by Category:


QUALITY
Who to report? - CMS expects to receive quality data for both Medicare and non-Medicare patients. For the transition year, MIPS eligible clinicians whose measures fall below the data completeness threshold of 50 percent would receive 3 points for submitting the measure.
How many patients to report? - Eligible providers must report on at least 50 percent of the MIPS eligible clinician or group's patients that meet the measure's denominator criteria, regardless of payer for the performance period.
What type of measures?
The MIPS eligible clinician or group would report at least six measures including at least one outcome measure.
If an applicable outcome measure is not available, the MIPS eligible clinician or group would be required to report one other high priority measure (appropriate use, patient safety, efficiency, patient experience, and care coordination measures) in lieu of an outcome measure.
If fewer than six measures apply to the individual MIPS eligible clinician or group, then the MIPS eligible clinician or group would be required to report on each measure that is applicable or may report more measures that are applicable. CMS defines "applicable" to mean measures relevant to a particular MIPS eligible clinician's services or care rendered.
How are the Measures Scored? - Measures that were submitted or calculated that met the following criteria:
The measure has a benchmark
Has at least 20 cases; and
Meets the data completeness standard (generally 50 percent)
receive 3 to 10 points based on performance compared to the benchmark.
How is the data validated? - For the applicable performance period, the MIPS validation process will vary by submission mechanism. For claims and registry submissions, CMS plans to use the cluster algorithms from the current MAV process under PQRS to identify which measures an MIPS eligible clinician is able to report.


ADVANCING CARE
INFORMATION
Advancing Care Information Performance Category - Five measures are required:
Security Risk Analysis,
E-prescribing,
Provide Patient Access to their data,
Send a Summary of Care, and
Request/Accept Summary of Care (50% Base Score).
If the MIPS eligible clinician reports to one or more additional registries under the Public Health and Clinical Data Registry Reporting objective, they will earn the 5 percent bonus score.
Submission of the advancing care information performance category data can be done via QCDR, as well as registry, CEHRT, CMS Web Interface and attestation.
Non-patient facing MIPS eligible  clinicians will have their ACI category automatically reweighted to zero by CMS.


IMPROVEMENT
ACTIVITIES
All MIPS eligible clinicians or groups, or third party intermediaries such as health IT vendors, QCDRs and qualified registries that submit on behalf of a MIPS eligible clinician or group, must designate a yes response for activities on the improvement activities inventory.
Payment adjustments: CMS estimates that approximately 676,722 eligible clinicians would be required to participate in MIPS in the 2017 MIPS performance period.  Under the proposed rule, the payment adjustment for the 2019 payment year would range from - 4% to +4X% where X is an adjustment factor to allow the MIPS program to stay budget neutral.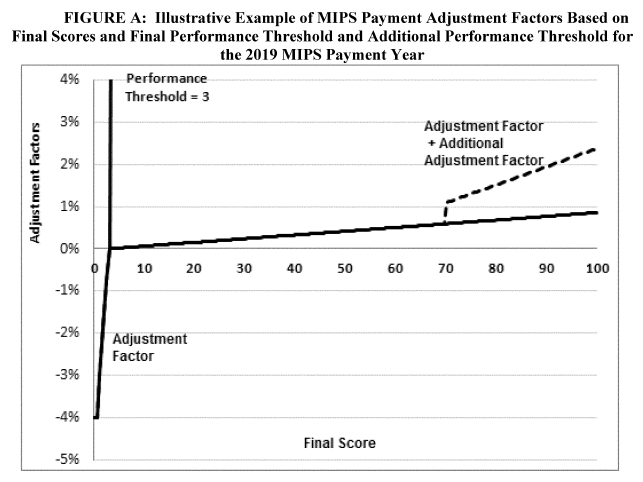 According to CMS, MIPS eligible clinicians would receive approximately $199 million in positive MIPS payment adjustments, including up to an additional $500 million for those with exceptional performance (eligible clinicians whose final score is 70 points or higher).  CMS also estimates that 5.3% of the providers eligible for MIPS in 2017 will get a penalty. The average MIPS payment amount would be 0.94%.
CMS estimates these numbers based on projecting past PQRS participation, past PQRS performance scores and past EHR Meaningful Use participation into the 2017 MIPS rules.
Based on the CMS numbers, the penalty for not reporting MIPS for a clinician with an average of $116,000.00 in Medicare Part B income, will be $4,640 (4% negative payment adjustment). 
We estimate that the average payment for a clinician with a MIPS score between 3 and 100 will be $1,090 (0.94% positive payment adjustment). As shown in the graph above, the largest payments will apply to clinicians with MIP scores above 70. 
Because it is easy to avoid the penalty (performance threshold at 3 points) the reward for a perfect MIPS score of 100 points could be around 2.4% percent ($3,400 for a clinician with an average $116,000 of Medicare income).
For more information, please visit: