Posted on August 29, 2022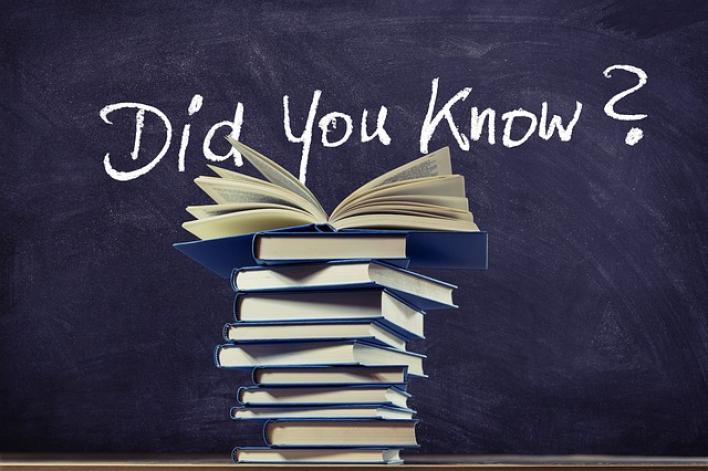 Small practices could find it tougher to avoid a penalty under the Merit-based Incentive Payment System (MIPS) in 2022 due to a higher minimum performance threshold and an increased weight for the Cost category. Just over 9% of MIPS eligible clinicians in small practices received a negative payment adjustment for their 2020 MIPS reporting and this number could go higher this year. While special policies have been established to ease the reporting burden on small practices, it is more important than ever to start MIPS reporting early. Here's what small practices need to know about the 2022 MIPS reporting requirements and steps they can take to get started now.
MIPS Reporting Requirements for Small Practices
A small practice is defined as having 15 or fewer clinicians identified by their National Provider Identifier (NPI) who bill under the same Tax Identification Number (TIN). This article focuses on the reporting requirements for small practices participating in the traditional MIPS program track. 
MIPS Eligibility
Small practice clinicians will be required to report MIPS in 2022 if they:
Are a MIPS eligible clinician type*;
Have enrolled as a Medicare provider before 2022;
Are not a Qualifying Alternative Payment Model Participant (QP); and
Exceed the low-volume threshold as an individual:

Bill more than $90,000 in Medicare Part B allowed charges in Physical Fee Schedule (PFS) services per year; and
Provide covered professional services to more than 200 Medicare beneficiaries per year; and
Provide more than 200 covered professional services under PFS per year.
*Clinical social workers and certified nurse midwives were added as new MIPS eligible clinician types in 2022.
Clinicians can check their 2022 MIPS eligibility status by entering their individual NPI into the QPP Participation Status Tool. The website will indicate if a clinician or group has a special status designation as a "small practice".
MIPS Categories and Weights
As a refresher, there are four categories under MIPS:
A clinician's performance across the MIPS categories will result in a MIPS Final Score of 0 to 100 points which will be compared to the performance threshold and the exceptional performance threshold to determine a payment adjustment. At least 75 MIPS points (the minimum performance threshold) must be achieved in 2022 to avoid any MIPS penalty in 2024. Clinicians must reach 89 points (the additional performance threshold) to earn an exceptional performance bonus. (This is the last year for an additional MIPS adjustment for exceptional performance). 
For the 2022 performance year, small practice clinicians will generally have to submit data for only the Quality and Improvement Activities (IA) categories. CMS will automatically reweight the Promoting Interoperability (PI) performance category to 0% and more heavily weight the Improvement Activities performance category to 30% for small practices. 
Clinicians are not required to report data for the PI category and they do not have to submit a PI Hardship Exception Application to have it reweighted to other MIPS categories.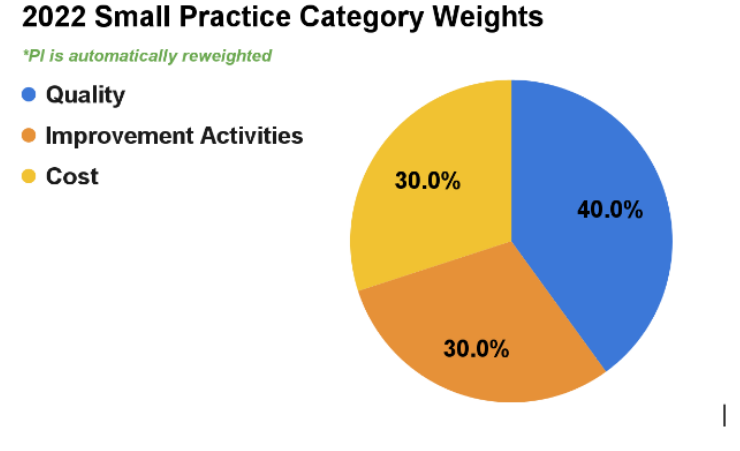 If a small practice has both the PI and Cost categories reweighted, the Quality and IA categories will be equally weighted at 50%.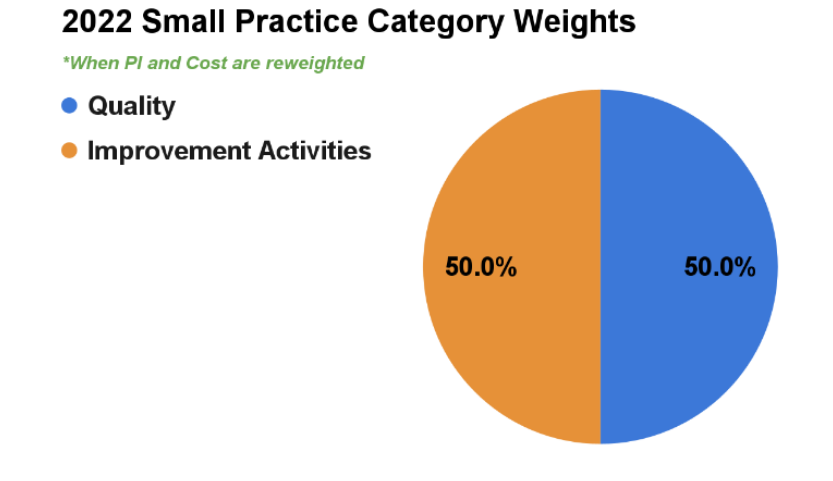 If a small practice clinician with 2015 edition certified electronic health record technology (CEHRT) chooses to report PI data the clinician will receive a PI category score and the category will not be reweighted. Standard weighting would apply when Quality, PI and IA are reported (Quality - 30%; Cost - 30%; Promoting Interoperability - 25%; Improvement Activities - 15%). MDinteractive customers can enter their PI data into their MDinteractive account to determine if their PI score would be better than having the category reweighted.
Quality Category
The Quality performance period is the full calendar year. Clinicians should select 6 Quality measures to report (at least 1 measure should be an Outcome or High Priority measure) or a specialty measure set. Quality measures must meet the Centers for Medicare and Medicaid Services (CMS) data completion rules, meaning each measure must be reported on at least 70% of eligible encounters, regardless of insurance, from January 1st through December 31st.
Important Updates:
CMS retired 13 Quality measures and made substantial changes to 87 Quality measures in 2022, so clinicians should carefully review the specifications for the measures they want to report.  Learn more about changes to the 2022 Quality measure inventory. 
The value of each measure and reporting method varies according to benchmarks established by CMS. Clinicians should review Quality measure benchmarks to understand how many points they can earn based on their performance for each measure. Reporting "topped out" measures, where the maximum score is capped, will make it harder to optimize a Quality score. Learn more about 2022 Quality measure benchmarks.
Bonus points for End-to-End electronic submission and reporting additional Outcome/High Priority measures beyond the required ones have also been eliminated in 2022, so clinicians can no longer count on these bonus points to improve their Quality score. There is no change to the small practice bonus. If clinicians submit at least 1 quality measure, they will continue to earn six bonus points in the Quality category. 
Improvement Activities (IA) Category
Small practice clinicians should attest to 1 High-weighted or 2 Medium-weighted Improvement Activities (IAs) for a minimum continuous 90-day reporting period in 2022. October 3, 2022, is the last day to begin a 90-day reporting period in 2022. If reporting as a group, at least 50% of the clinicians under the TIN should have performed the activity or activities. As a reminder, attesting to more than the required amount of activities will not increase the IA score. Clinicians should carefully review the IA description and suggested documentation before they complete their attestation.
Important Updates:
CMS removed six activities from the IA inventory, added seven new activities and modified 15 current activities. Many of the changes pertain to health equity and standardizing language related to equity across the activities. 
Promoting Interoperability (PI) Category
This category is not required for small practices. Clinicians choosing to report PI must have 2015 Edition CEHRT, the 2015 Edition Cures Update, or a combination of both. They must attest to this category for a minimum continuous 90-day reporting period in 2022. October 3, 2022, is the last day to begin a 90-day reporting period in 2022.
Important Updates:
There is a new SAFER Guides attestation measure and changes to the information blocking attestation.
Requirements for the Public Health and Clinical Data Exchange Registry objective were updated to require reporting on the Immunization Registry Reporting and Electronic Case Reporting measures. Clinicians will earn 5 bonus points for reporting any of the other 3 optional measures in this objective. 
Cost Category
CMS collects and evaluates administrative claims for the Cost category, so there is no data for clinicians to report.
Important Updates:
There are 5 new episode-based measures for 2022: 

2 procedural measures (Melanoma Resection, Colon and Rectal Resection)
1 acute inpatient measure (Sepsis)
2 chronic condition measures (Diabetes, Asthma/Chronic Obstructive Pulmonary Disease [COPD]) 
How to Get Started with MIPS Reporting
The end of the 2022 MIPS performance year will be here in no time. Although reporting may be harder for some clinicians this year, there are moves you can make now to jumpstart your MIPS reporting and protect your bottom line.
MIPS Reporting TIPS for Small Practices

TIP #1
Check your MIPS eligibility. Enter your individual NPI on the QPP Participation Status Tool website to determine if you are required to report MIPS in 2022.
TIP #2
Watch MDinteractive's 2022 MIPS Reporting Tutorial for Small Practices here.
TIP #3
Add your MIPS reporting plan to your MDinteractive account. Select the MIPS categories you will report with MDinteractive. We have several resources to help you develop a plan for successful reporting. Review suggestions for your specialty here.
TIP #4
Begin reporting. Log into your MDintearctive account from our website to start reporting your measures and activities. Our software tools will allow you to track your performance and estimated MIPS scores so you can monitor your progress throughout the year.
Don't Procrastinate!
Starting your MIPS reporting early is more important than ever this year. Our MIPS specialists can help you develop a reporting plan that makes sense for your practice and help you get started today. With MDinteractive, you can be confident you will have the guidance and support tools you need to stay on track with your MIPS reporting.