This measures group is to be reported for patients regardless of age with a specific procedure for TKR performed
---
One of the following patient procedure codes: 
27438, 27442, 27446, 27447 
PQRS Group Measures:
#130. Documentation of Current Medications in the Medical Record 
#226. Preventive Care and Screening: Tobacco Use: Screening and Cessation Intervention
#350. Total Knee Replacement: Shared Decision-Making: Trial of Conservative (Non-surgical) Therapy 
#351. Total Knee Replacement: Venous Thromboembolic and Cardiovascular Risk Evaluation 
#352. Total Knee Replacement: Preoperative Antibiotic Infusion with Proximal Tourniquet 
#353. Total Knee Replacement: Identification of Implanted Prosthesis in Operative Report
 
Download PQRS Total Knee Replacement Measures Group Form: 


Measure Group Description: 

(from CMS)
Measure Group Flow: 

(from CMS)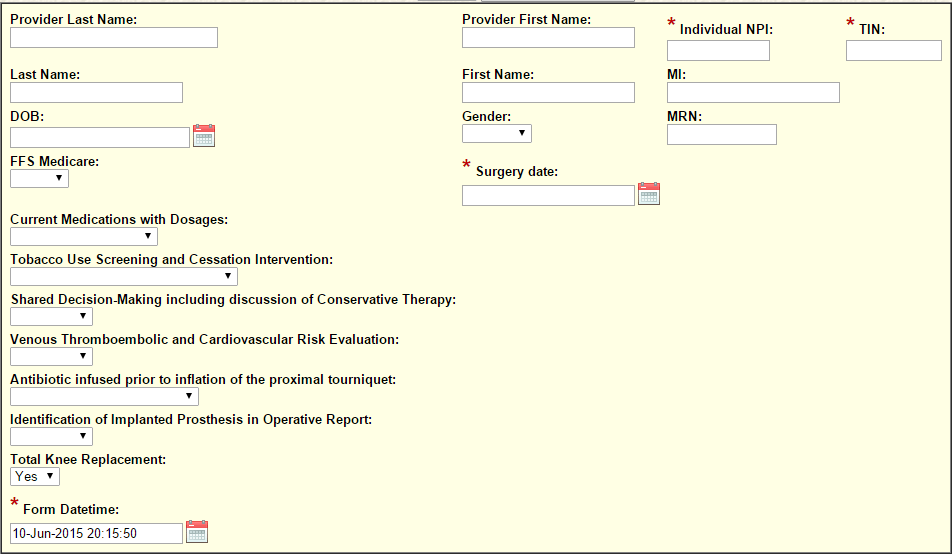 Register now with MDinteractive, report on all applicable measures described above for a minimum of  20 unique patients (11 of which must be Part B Fee-For-Service patients) and avoid the 4% penalty.
An answer of "Not Done" on all patients on one measure will result in a performance rate of 0% and the provider will get a PQRS penalty.
Each provider needs to sign a PQRS consent at http://mdinteractive.com/webpen