Posted on May 10, 2023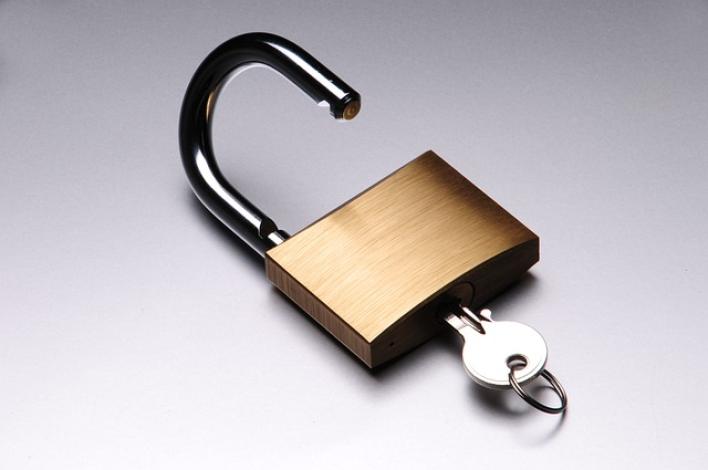 The use of technology has become an essential aspect of our daily lives, and the healthcare sector is no exception. Nowadays, clinicians and their practices require reliable and secure methods to collect and store patient data. As a result, an increasing number of clinicians are turning to electronic health record (EHR) systems. Over time, EHR technology has evolved, leading the Office of the National Coordinator for Health Information Technology (ONC) to implement a set of national standards for the secure access, exchange, and use of electronic health information that EHRs must comply with to attain voluntary certification. MDinteractive is an ONC-certified health IT vendor and CMS qualified registry. This article describes the ONC certification process and the benefits of using certified EHR technology.
What is the ONC Certification Program?
The ONC Certification Program, which started in 2010, establishes national standards for health IT (information technology), including EHR systems, to ensure that they meet certain standards for data accuracy, security, and interoperability. The program was created to certify health IT and make it more accessible for use in various federal, state, and private programs. For example, the Centers for Medicare & Medicaid Services (CMS) Promoting Interoperability (PI) Programs (previously Medicare and Medicaid EHR Incentive Programs) and the Merit-based Incentive Payment System (MIPS) under the Quality Payment Program (QPP) require the use of ONC-certified health IT. 
Third-party ONC-Authorized Certification Bodies (ONC-ACBs) are approved by the ONC to evaluate health IT and decide whether it meets the requirements of the Certification Program. To become ONC certified, health IT must undergo a rigorous testing and evaluation process. This includes testing to make sure that the system can properly handle patient information, that it can be used by healthcare providers in a meaningful way, and that it meets certain technical requirements. If the health IT passes all the tests and meets the ONC's requirements, it is awarded ONC certification. 
The following ONC-ACBs can certify health IT in the Certification Program:
Drummond Group
Leidos, Inc.
SLI Compliance, a Division of Gaming Laboratories International, LLC
How has the ONC Certification Program Evolved?
As new technologies and needs arise, the ONC releases updated versions of the certification criteria. Initially, ONC established baseline standards for EHR functionality, interoperability, security, and usability. Updates were made to enhance EHR capabilities and promote interoperability. Recent updates focus on information blocking prevention and seamless health information exchange, ensuring adherence to regulatory requirements and improving healthcare delivery. 
Since its inception ONC has released three editions of health IT certification criteria:
2011 Edition (retired)
2014 Edition (retired)
2015 Edition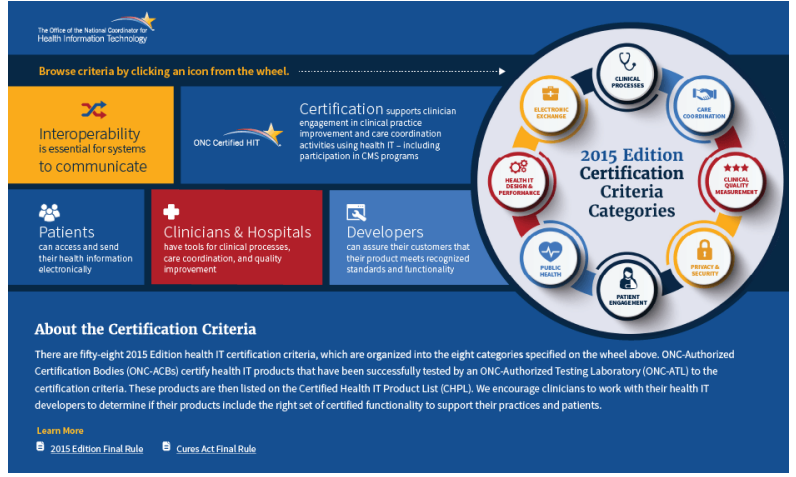 Image Source: ONC 2022 Report to Congress: Update on the Access, Exchange, and Use of Electronic Health Information
The Cures Act
The 21st Century Cures Act: Interoperability, Information Blocking, and the ONC Health IT Certification Program Final Rule (ONC Cures Act Final Rule) made many revisions to the existing 2015 Edition Health IT certification criteria and adopted new program requirements from the 21st Century Cures Act. The updates, which will have lasting impacts on patients, clinicians, and certified health IT developers, include:
Advancing interoperability for patients and providers by using secure FHIR-based (Fast Healthcare Interoperability Resource) application programming interfaces (APIs).
Allowing patients to electronically access all of their electronic health information at no cost.
Ensuring providers are able to choose the IT tools that allow them to provide the best care for patients, without excessive costs or technical barriers.
The ONC Cures Act Final Rule required certified health IT developers to update and provide clinicians and patients with new technology, including FHIR-based APIs, by December 31, 2022. According to the ONC, more than 95 percent of certified health IT developers met the compliance deadline. FHIR uses modern web-based technologies to enable the exchange of healthcare data between different healthcare systems and applications. It will make it easier for patients to retrieve their personal health records through mobile devices while giving doctors a complete picture of a patient's health history, even if they have been to different hospitals or clinics. 
TIP: Clinicians should ensure their health IT meets the new requirements of the 2015 Edition Cures Update certification criteria as compliance is now required in most Medicare Quality Reporting and Promoting Interoperability programs, including MIPS.
What are the Benefits of Using Certified Health IT?
According to a recent ONC 2022 Report to Congress: Update on the Access, Exchange, and Use of Electronic Health Information, nearly all non-federal acute care hospitals and about three-quarters of office-based physicians use health IT certified via the ONC Health IT Certification Program. Using certified health IT can improve the efficiency and effectiveness of healthcare delivery, benefiting both doctors and patients. Certification ensures that health IT will work properly and exchange information according to established standards and with a focus on the needs of users. The benefits of using these standards include:
Better patient safety
Easier to use systems
Improved privacy and security for patients
Certified health IT also helps clinicians and practices comply with various healthcare reporting requirements. For example, the use of certified electronic health record technology (CEHRT) is an integral part of the current MIPS program. CEHRT is required for reporting the MIPS Promoting Interoperability (PI) category. It is also helpful in capturing and submitting relevant information to CMS to meet the reporting requirements for the MIPS Quality and Improvement Activities categories. 
TIP: Information about the 2023 MIPS reporting requirements can be found here.
What are the Advantages for Clinicians of MDinteractive's ONC Certification?
MDinteractive's ONC certification enables us to provide valuable support to clinicians and practices when it comes to reporting their quality data. With our certification, we can seamlessly handle Quality Reporting Document Architecture (QRDA I) files extracted from an EHR, and convert them into QRDA III files for reporting quality measures in programs like traditional MIPS, Primary Care First (PCF), and the new APM Performance Pathway (APP). Our certification demonstrates our ability to accurately and securely gather essential data from healthcare providers' EHRs, process that data, and generate the final QRDA III files for reporting. This ensures that the data submitted to CMS is accurate and can be effectively used to assess the quality of care delivered by healthcare providers.
Here are a few examples of the advantages of a registry being both CMS qualified and ONC-certified:
Unified Data Collection and Reporting: A registry that is both ONC-certified and CMS qualified can aggregate data from multiple certified EHR systems. It can compile QRDA I files from different EHRs, de-duplicate the data, and submit electronic clinical quality measures (eCQMs)/QRDA III files to QPP. This unified approach to data collection and reporting can simplify the process and reduce the administrative burden on healthcare providers. This is particularly beneficial for Accountable Care Organizations (ACOs) that have participants using multiple certified EHRs.
Flexibility in Data Sources: Being both CMS qualified and ONC-certified gives a registry the flexibility to use multiple data sources for reporting. This can include QRDA I files, flat files, billing files, and FHIR feeds. This flexibility is especially useful for ACOs that have a mix of certified and non-certified EHRs, and even for physicians still using paper records. For instance, MDinteractive can use these different data sources to report MIPS clinical quality measures (CQMs) for an ACO.
Compliance with Reporting Requirements: A registry that is both CMS qualified and ONC-certified can help healthcare providers meet their reporting requirements. For example, under the PCF program, a registry like MDinteractive can aggregate QRDA Is from one or more EHRs and generate the QRDA III required for PCF quality reporting. This can help healthcare providers avoid penalties and maximize their potential incentives.
What Should Clinicians Do Now?
Determine if your EHR has been certified with the 2015-edition Cures Update.
In 2023 the 2015-edition Cures Update certification is mandatory for reporting PI under the MIPS program. 
Check your EHR system's certification at CHPL. You will need your CHPL ID# to report PI.
If your EHR does not have the 2015-edition Cures Update, find out when it will upgrade to the new standards.
Ask your EHR if it can share data using FHIR with MDinteractive.
Granting MDinteractive permission to access data directly from your EHR using FHIR will simplify your MIPS quality data reporting compliance by ensuring the secure and seamless transfer of data from your EHR to our registry.
TIP:  The ONC Health IT Certification Program provides a recognized seal of approval. It's important to consider this certification when buying or updating health IT systems.
It is becoming increasingly important to use certified health IT. Although participation in the ONC Health IT Certification Program is optional, failure to have a certified EHR system can put your practice at risk and negatively impact your ability to comply with various CMS requirements. MDitneractive is an ONC-certified health IT vendor and CMS qualified registry that can help you meet your reporting goals.
 
Onc Certification 2015 Edition CEHRT The Cures Act Promoting Interoperability MIPS